A BREATH OF FRESH AIR
June 18th, 2013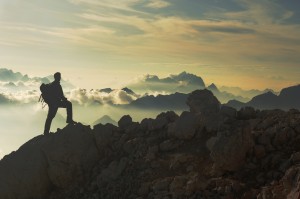 Whether you prefer the mountains or the beach, adventure awaits…
Most of us don't live at the beach, or spend time in the woods.  The novel experiences that make trips to the mountains or beach fun, can also be dangerous due to unfamiliarity.
At the beach:
* Wear sunscreen to avoid burns.
* Supervise children
* If they can't swim, they should wear a life jacket.
* Don't dive unless you are sure of the depth.
* Leave animals alone.
* If stung by a jelly fish…
* Try to rinse off the tentacles in the salt water.
* Remove remaining tentacles with a gloved hand, or tweezers.
* Watch for an allergic reaction, and seek medical attention immediately for additional symptoms.
* Pain relief
* Immerse the area in hot, but tolerable, water.
* Cold water may worsen the pain.
* Tylenol or Ibuprofen may help.
* Urine doesn't work.
* Rip currents are responsible for most rescues by lifeguards, and for many deaths each year.
* Watch for warnings and/or ask a lifeguard about conditions.
* Stay at least 100 feet away from jetties and piers.
* Permanent rip current often exist near structures.
* Don't fight the current, you'll lose.
* Swim parallel to shore until free of the current, then swim directly to shore.
 The mountains/woods:
* What to wear:
* Wear light colored, non-cotton, long pants and shirt.
* Cotton dries slowly, and insulates poorly when wet.
* Light colors allow you to see ticks on your clothing.
* Layer clothing if the weather or temperature may change.
* Perfume, cologne, or scented laundry products may attract insects.
* Hiking shoes, be sure they fit and break them in before a long hike.
* Before you leave:
* Look at maps and satellite photos to familiarize yourself with the area.
* Check the weather.
* Tell at least one person where you're going and when you plan to return.
* Make sure the area matches your physical ability.
* Don't go alone.
* In your pack:
* Compass and topographic map, or GPS;
* Pocket knife and flashlight;
* High energy food such as nuts;
* First-aid kit, you can purchase one containing basic supplies;
* More water than you'll need; be sure to drink it regularly;
* A trash bag can be made into a stylish poncho.
 * On the trail
* Stay with your party;
* Drink water and eat at regular intervals;
* Do not drink from streams;
* Keep track of the time to avoid losing daylight;
* Maintain a safe pace to avoid injury;
* Have someone check you for ticks afterwards, especially on your scalp.
These are just a few tips to help you stay safe outside this summer.  Always research the area where you plan to go, and leave prepared.  Starting your journey armed with prior preparation and knowledge will allow you to worry about the next photo op, rather than the next drink of water.